A Rich Past, A Bright Future
From 1927 to Tomorrow
Restoring a Landmark
The State Tower is located at 109 South Warren Street in Syracuse and is adjacent to the Connective Corridor—a public-private partnership focused on creative place-making, urban revitalization, complete streetscapes, sustainability and smart growth. Built in 1927, it shares the Art Deco architectural characteristics of the local Niagara Mohawk Building—as well as the Empire State and Chrysler Buildings, whose construction followed in 1930 and 1928, respectively. The construction features a steel and concrete structure, a decorative terra-cotta and brick façade, and a luxury Art Deco lobby.
The State Tower has a unique "wedding cake" design with floor plates decreasing in size in sections as the building rises. The exterior brick color also transitions from darker to lighter as it rises, giving the building an even greater appearance of height and elegance. At 22 stories and 315 feet tall, the 181,000 square foot building provides unparalleled views and remains the tallest building in Central NY.
The building is an integral part of the Hanover Square Historic District, which is listed on the National Register of Historic Places. Hanover Square is distinguished by a beautiful fountain and plaza where lunchtime entertainment is available during the summer months. The plaza offers a variety of restaurants, cafés, several retail establishments, and loft-type living spaces.
The Pioneer Companies Vision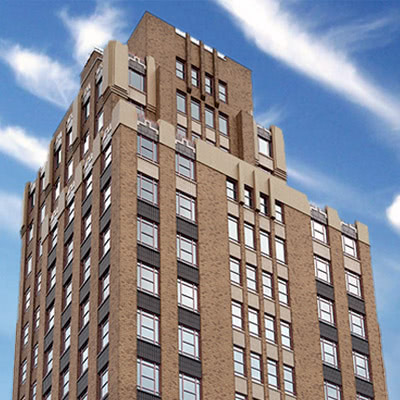 During the entirety of its existence, the State Tower had served solely as an office building with retail on the ground floor. Given the competitive downtown office market and the continued strong demand for urban residential units, Pioneer saw great potential in transforming this landmark building.
Pioneer envisioned creating a truly urban mixed-use neighborhood within the building. The adaptive reuse of the upper 14 floors to high-end residential units, the transformation of the first seven floors into Class-A office space, and the remodeling of the retail shops on the ground level brought the vision to life.
The 61 apartments include a mix of studio, 1BR and 2BR ranging from 600 to 2,600 square feet, highlighted by unique floor plans. Each unit features a washer/dryer, solid surface countertops, tile and hardwood flooring, wood cabinetry and energy-efficient appliances. Ample available amenities complement the stunning vistas and modern layouts, including a workout facility and attached parking garage.
Learn more about

The State Tower

or

Pioneer Companies