Iconic Downtown Location, Modern Office Amenities
The State Tower boasts 105,000 square feet of fully renovated and meticulously maintained office space in the heart of Syracuse's commercial district.
View Amenities »
Shared business resources make our space ideal for individuals and smaller companies, while our signature location in the center of Syracuse's business districts makes it uniquely appealing to employees and clients alike.
Featured amenities
Conference rooms equipped with state-of-the-art technology
Bike rack
Large windows for ample natural light and stunning city views
On-site restaurant
On-site security & maintenance personnel
Attached parking garage
Hear from our commercial tenants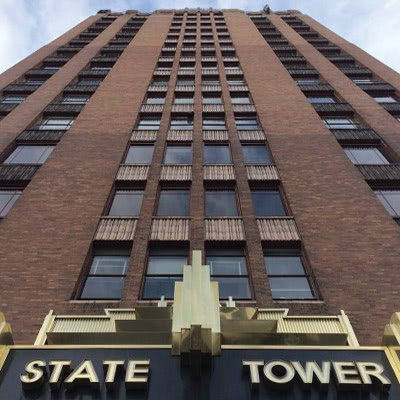 The transformation is underway and, with the guidance of Pioneer Companies, The State Tower is destined to become one of the most vibrant and successful mixed-use properties in Syracuse.
Restoring a Landmark
Built in 1927 and standing 315 feet tall, The State Tower is the tallest building in central New York and a Syracuse icon. This landmark building is now getting the makeover it deserves, courtesy of Pioneer Companies, one of the most experienced real estate & development and property management companies in Upstate New York.
Pioneer's $39 million renovation plans for the historic building include significant interior and exterior improvements, including:
Upgraded available office space
Replacement of original windows and mechanical systems
Restoration of masonry façade
New sprinkler system
Renovated entrances, common areas & bathrooms
High quality VCT/carpet, wall covering & window treatments
Large, open spaces with 10+' high ceilings at window walls
Upgraded elevator systems
New roof
"One of America's Best Places for Business" - Forbes
Working in Syracuse
The Syracuse workforce is 20% more educated than the national average. The region's 1.5 million people have a reputation for innovation, technical advancements, customer service and high productivity. They're also known for their diverse skill set, which supports our many business sectors, from manufacturing and healthcare to IT and clean energy.
The city has a ready pool of rising talent, with almost 140,000 college students attending the region's 35 colleges and universities. These institutions of higher education are also responsible for more than $1.2 billion of local research & development currently underway.
Demographics
Population23,418144,897227,204662,577
Households10,31757,71892,723252,043
HHI$32,468$49,618$57,725$39,210
Distance from State Tower
1 Mile | 3 Miles | 5 Miles | 15 Miles
Sources: Downtown Committee of Syracuse; Kneebone, Elizabeth
Quick Facts
There are more than 5 million square feet of occupied office space in downtown Syracuse
More than 27,000 employees work in downtown Syracuse
37.4% of all jobs in the Syracuse MSA are clustered within 3 miles of the city center
Current development investment in downtown Syracuse is $210 million
The residential population of downtown has increased more than 40% in the last 10 years
The State Tower office space is available.